Regular price
Sale price
$10.00 USD
Unit price
per
Sale
Sold out
Get ready to experience an audio assault like no other with "Traxster - All Hell Breaks Loose CD." This album is a relentless sonic journey crafted by none other than the legendary Traxster, a pioneer in the hip-hop and rap scene. Brace yourself for a high-energy musical adventure that will leave you in awe.
Key Features:
🔥 Traxster's Mastery: "All Hell Breaks Loose" is a testament to Traxster's unparalleled production skills and lyrical prowess. Dive into the mind of a hip-hop legend as he delivers a sonic experience that pushes the boundaries of the genre.
🎤 Uncompromising Lyrics: Traxster's unapologetic lyrics cut through the noise and dive deep into the complexities of life, street stories, and his unwavering passion for the art of hip-hop.
🎵 Signature Sound: Traxster's production style is renowned for its hard-hitting beats and unique melodies. This CD encapsulates the quintessential Chicago sound that has inspired hip-hop artists worldwide.
📀 Collector's Gem: Beyond its musical brilliance, this CD is a collector's gem for those who value the impact of influential artists in the hip-hop industry. It's a piece of history you'll be proud to own.
💿 High-Quality Sound: Each track is meticulously mastered to ensure an exceptional listening experience. Immerse yourself in the beats and lyrics, and appreciate the authenticity of Traxster's music.
🎁 Perfect Gift: Whether you're a die-hard fan of Traxster or introducing someone to his groundbreaking work, "All Hell Breaks Loose CD" is the perfect gift. It's a musical journey that resonates with all hip-hop enthusiasts.
Step into the mind of Traxster and experience the raw energy of his musical genius with "All Hell Breaks Loose CD." This album is a testament to the talent and creativity of an artist who has left an indelible mark on the hip-hop landscape. Don't miss your chance to own this extraordinary piece of hip-hop history. Secure your copy today and join the ranks of those who appreciate the groundbreaking artistry of Traxster.
Share
View full details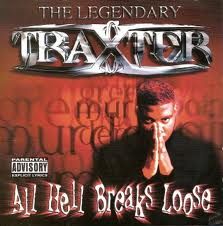 30 Years of Chicago Hip Hop.........AND IT WON'T STOP!
Collectors Items

Most item's are out of print & promo item's that won't be reprinted.

Get a piece of history & Chicago Hip Hop Culture before it's gone!