Regular price
$15.00 USD
Sale price
$10.00 USD
Unit price
per
Sale
Sold out
Introducing the "Do or Die - Chopped & Screwed CD" – a must-have addition to any music enthusiast's collection. Immerse yourself in the hypnotic world of Chopped and Screwed, a sub-genre of hip-hop renowned for its slow and methodical remixing style, designed to transport you to a new dimension of auditory pleasure.
Key Features: 🎵 Sonic Mastery: This CD presents the iconic Chicago rap trio, Do or Die, in a style like never before. The Chopped and Screwed technique reimagines their music, slowing down the beats and drawing out the lyrics for an immersive and hypnotic experience.
🔊 Unique Listening Experience: Discover the essence of Southern hip-hop with this one-of-a-kind CD. The Chopped and Screwed method takes you on a journey through time, offering a fresh take on classic tracks and letting you appreciate the artistry of Do or Die in a whole new light.
🎤 Do or Die Classics: Relive the group's greatest hits, such as "Po Pimp" and "Playa Like Me and You," in an entirely new way. The Chopped and Screwed CD breathes new life into these beloved tracks while preserving their original essence.
📀 Collector's Item: This CD is more than just music; it's a collector's item. With its unique style and nod to a distinct era of hip-hop, it's a valuable addition to any music memorabilia collection.
💿 High-Quality Sound: Each track on this CD is carefully remastered to ensure that you experience every note and lyric with exceptional clarity and precision.
🎁 Perfect Gift: Whether you're a dedicated Do or Die fan or looking for a memorable gift for someone who is, the "Do or Die - Chopped & Screwed CD" makes for a thoughtful and unforgettable present.
Step into the world of Chopped and Screwed with Do or Die and experience hip-hop in a way you never have before. Get your hands on this unique CD and let the hypnotic rhythms and slowed-down beats transport you to a world of musical transcendence. Don't miss out on this opportunity to own a piece of hip-hop history. Grab your copy today!
Share
View full details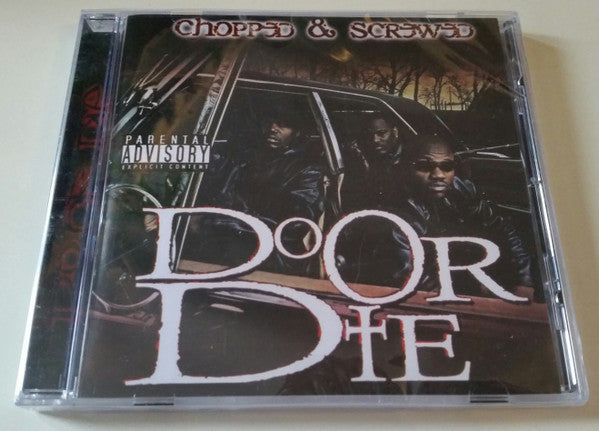 30 Years of Chicago Hip Hop.........AND IT WON'T STOP!
Collectors Items

Most item's are out of print & promo item's that won't be reprinted.

Get a piece of history & Chicago Hip Hop Culture before it's gone!