Regular price
Sale price
$10.00 USD
Unit price
per
Sale
Sold out
Elevate your space with a piece of hip-hop history – the Belo Zero "I Plead the 5th" Poster in a striking 18x24 size. This iconic artwork is a tribute to the legendary artist and founding member of Do or Die, Belo Zero. A perfect fusion of visual art and musical expression, this poster encapsulates the essence of Chicago rap culture and the enduring legacy of Belo Zero.
Key Features:
🔥 Belo Zero's Legacy: As a luminary in the hip-hop world, Belo Zero's artistry has left an indelible mark on the genre. This poster is a homage to his impact on Chicago rap and beyond.
🎨 Striking Design: The poster features a visually captivating design that reflects the raw energy and lyrical brilliance of Belo Zero's "I Plead the 5th" project.
🏢 Versatile Decor: Whether you hang it in your home, office, studio, or entertainment space, this poster adds a touch of authenticity and musical heritage to your surroundings.
📷 Premium Quality: Crafted using high-quality materials, this poster boasts vivid colors and sharp details, ensuring that it remains a stunning focal point for years to come.
🎁 Unique Gift: Ideal for fans of Belo Zero, collectors, or anyone passionate about hip-hop and its artistic expression. It's a unique gift that will be cherished by music enthusiasts.
Proudly Display: Show your support for Belo Zero's enduring impact on hip-hop and proudly display this poster as a symbol of your appreciation for his artistry.
Bring the spirit of Belo Zero and Chicago rap culture into your space with the "I Plead the 5th" Poster in an impressive 18x24 size. This poster is more than a piece of art; it's a visual testament to the power of music and storytelling. Order your poster today and let the legacy of Belo Zero take center stage in your surroundings.
Share
View full details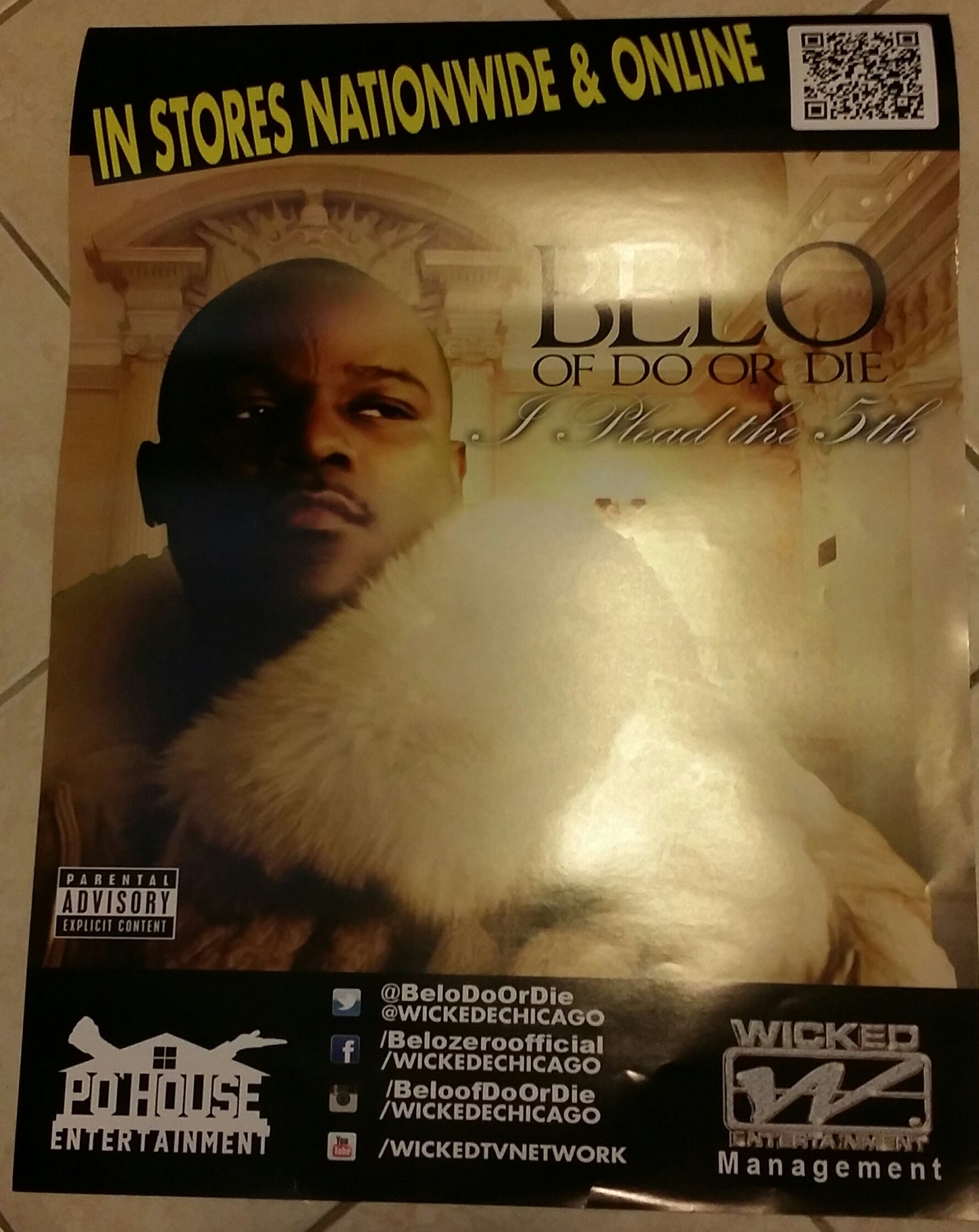 30 Years of Chicago Hip Hop.........AND IT WON'T STOP!
Collectors Items

Most item's are out of print & promo item's that won't be reprinted.

Get a piece of history & Chicago Hip Hop Culture before it's gone!